DJI OSMO Get Two FREE Batteries Bundle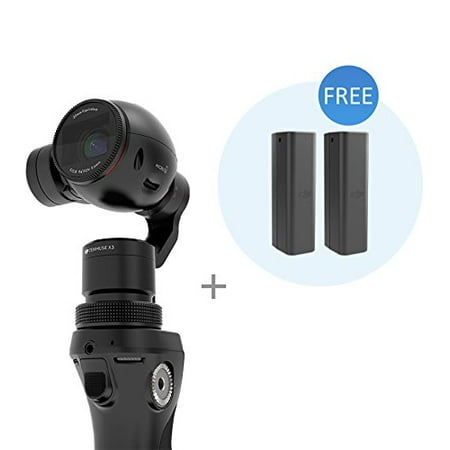 Three Batteries Totally
Note:
Zenmuse X5 cameras require Osmo - X5 Adapter for use with Osmo that is sold separately.
The size of the mobile device mount is 116 x 30 x 34 mm. The Osmo can comfortably hold 5.5-inch devices.
The osmo system from DJI combines the Zen muse x3 camera/gimbal with a detachable handle, bringing the benefits of stabilized 4K shooting to a handheld form factor.
The camera features a 1/2.3" CMOS sensor that enables up to full DCI 4K (4096 X 2160) video recording at 24 or 25P as well as 12mp photo capability.
Basic controls for the camera and gimbal are provided on the handle itself, including a joystick for manual pan and tilt.
For monitoring and more advanced operation, there is a WI-FI link allowing osmo to be tethered to a mobile device running the DJI go IOS app.
An included mobile device holder effectively turns your smartphone into an on-board monitor.
The WI-FI features a range of up to 85', so you can operate the camera and gimbal remotely as well.
Ergonomic handle providing a grip for easy handheld operation, the handle incorporates a joystick for panning and tilting the gimbal.
There is also record start/stop button and a shutter button, putting the essential controls right at your fingertips.
A trigger allows you to toggle modes. The camera/gimbal assembly can detach from the handle for storage or use in other applications DJI go app remotely operate the gimbal and view a live feed using the go app for IOS.
A WI-FI link in the camera allows you to tether your mobile device, and supports a range of up to 85'.