3x Magnifying Lighted Makeup Mirror - 10 Long Gooseneck Mirror with Warm LED Light- Best Wireless, Battery Operated, Adjustable, Bathroom Vanity Dresser Mirror - FREE 10X Magnifying Spot Mirror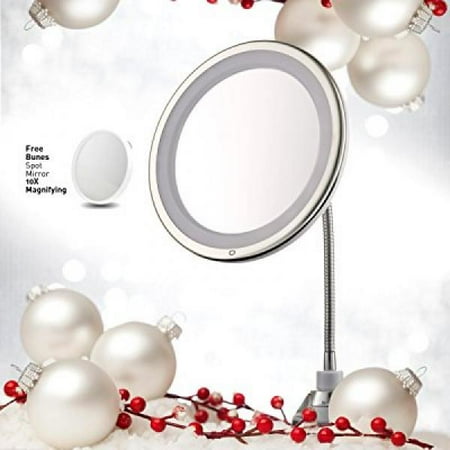 Take Your Makeup Routine To The Next Level With ProBeautify s Lighted Makeup Mirror
Introducing The New Way To Apply Makeup
Featuring natural, dimmable LED lights, this makeup mirror is the most economizing way to perform your beauty routine, saving you both time and money, as you ll no longer waste beauty products on countless, corrective makeup re-applications!
Our large, 6 mirror helps highlight your best features, as well as zero in on specific spots, for an unparalleled, smooth finish.
Beauty Innovation
No need for cords, electrical outlets or professional installation services. We have eliminated the fear of electrocuting yourself while doing your makeup in the bathroom!
Our ingenious, Easy-Lock Suction Mechanism, along with its long, 10 flexible gooseneck and 360° swivel allows you to CHOOSE your preferred distance and viewing angle, without bending or keeping your hands on the mirror, for maximum precision.
Mirror Highlights:
• Natural Daylight LEDs
• Easy-Lock Suction Mechanism
• 360° Adjustable Swivel
• 6 Large Glass Mirror
• Compact, Lightweight & Collapsible, For Storage & Travel
• Chrome Finish
• Wireless (No Power Cords Needed)
DISCLOSURES:
1. Our mirror will adhere to clean & flat surfaces, such as glass, acrylic, marble, porcelain, enamel and other mirrors.
2. This mirror is NOT anti-fog - please, keep it dry.
3. Our mirror WILL NOT stick to surfaces like wood, drywall, stucco, wallpapers, or any textured walls.
4. Requires 3 AA Batteries (Not Included)
Purchase Our Mirror & Revolutionize Your Beauty Routine!

Click Add To Cart While Supplies Last!
SKU:ADIB01JJSOFYU