×
---
---
Modern Innovations Stainless Steel Water Bottles - 17 OZ Set of 2 made of BPA Free Leak Proof Insulated Design for Hot & Cold Drinks Perfect for Camping, Picnics, Gym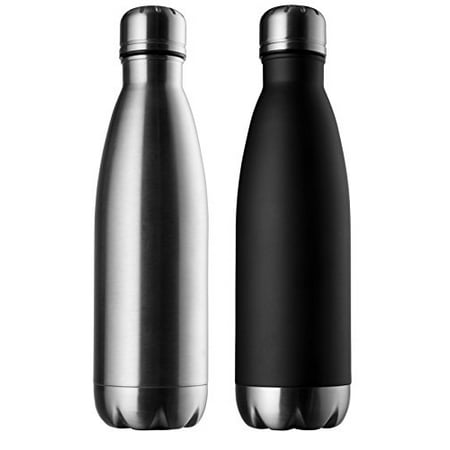 QUALITY DESIGN
The Modern Innovations Stainless Steel Water Bottles are made of quality, dishwasher safe, food grade,
18/8 stainless steel that is double walled and vacuum sealed so that you don't feel the heat or cold of
the beverage inside or have to deal with condensation or sweat on the bottle. Between the two walls is
a specially designed layer of copper which increases the bottle's thermal properties, allowing beverages
to keep their temperature longer than the average double walled or glass bottle.
DURABLE AND VERSATILE
The BPA free stainless steel won't break down like plastics and leech harmful chemicals your beverages.
The solid construction means you don't have to worry about breaking like you do with glass or some
plastic bottles. The sleek design at only 10 ½" in length and 2 ½" at its widest allows it to fit in most
standard cup holders and easily fits into back packs, gym bags, or a handbag. Fill it with coffee before
work; make a smoothie and bring it with you for after a workout; make some hot cocoa for a day of fun
in the snow or around a camp fire.
GREAT VALUE
The two pack of thermal water bottles allows you to share with your partner or keep one at home and one
at the office. With one black and one chrome, you can color code them and keep track of which is which.
With such high quality construction, these will last you for years to come.